de Novo spent a lot of time researching and testing the best ways to encourage vaccine holdouts to get the shot. Starting in 2021, we worked with our friends at Linn County Public Health and United Way of East Central Iowa to increase vaccination rates, encourage people to get their boosters, and build trust in local health authorities.
Primary research and observation told us that a "shame-and-blame" approach that stigmatized skeptics would get us nowhere. So we stripped all traces of judgment from our campaigns and focused instead on the overwhelmingly positive benefits of vaccination.
Since we rolled the campaign out in phases, we were able to tackle issues and misinformation as they arose and tweak our approach for maximum effectiveness.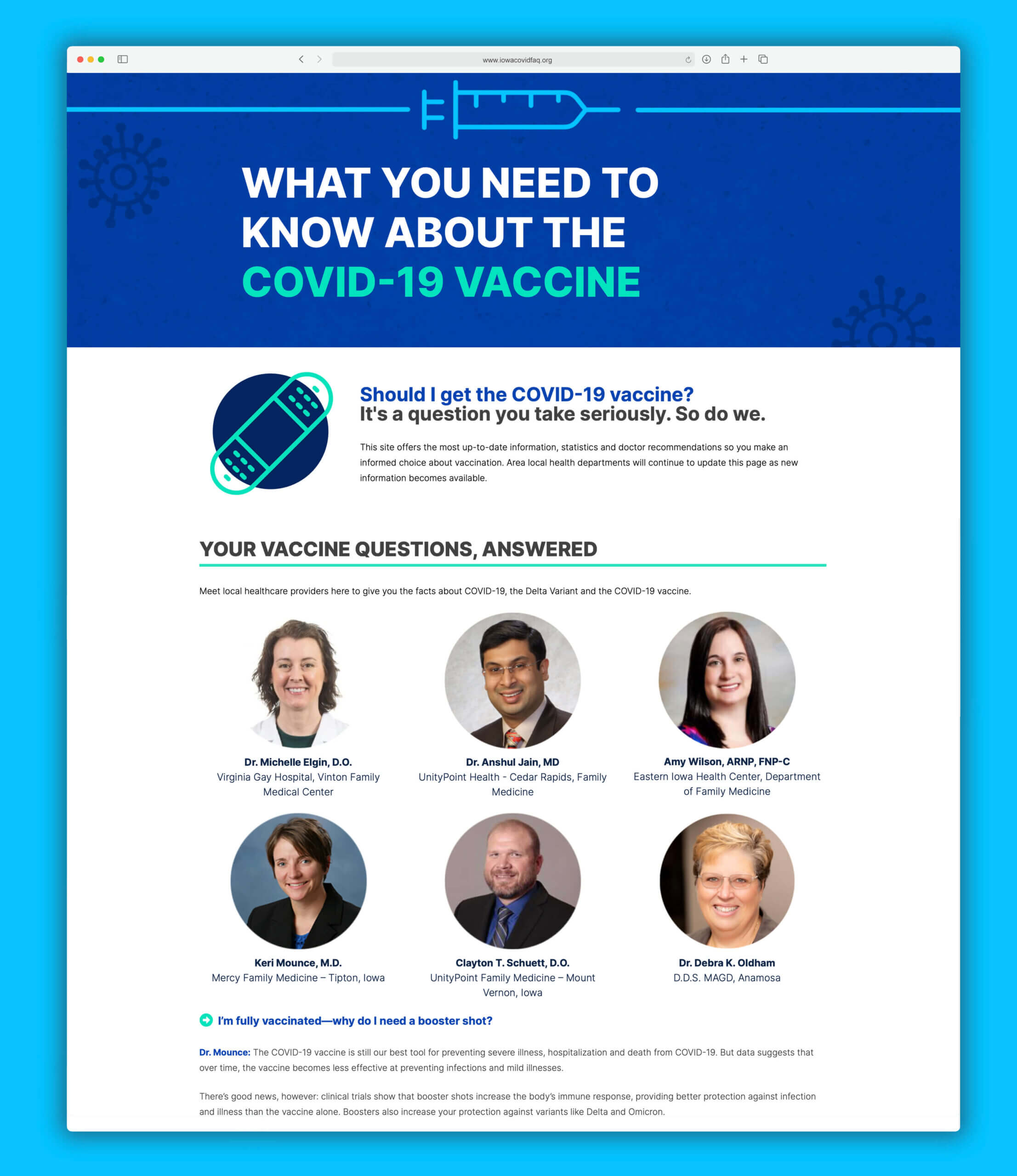 From the early days of COVID, misinformation proliferated, giving rise to wild theories and sowing mistrust of public health officials. Thankfully, research (reinforced through focus groups and ad testing) told us that there was one authority even the skeptics still trusted—their personal physicians.
To combat myths surrounding the vaccine, we built a series of landing pages that answered skeptics' questions using plain and sympathetic language. Questions were answered by real doctors working in the local community with accompanying photos to make the experience of visiting the site feel like a one-on-one conversation.
As a result, we helped parents with vaccine-eligible children make informed decisions about how to best protect their families. We connected rural residents to vaccine providers close to where they live. And we laid out the facts about boosters, who could get one and how.
To reach young, vaccine-eligible adults, we created fun and energetic campaigns for TikTok and SnapChat featuring local influencers we hired to produce content developed by de Novo.
We also spread the message through a series of live and animated videos that ran on both traditional and digital platforms (including OTT streaming).
To encourage vaccine undecideds to get the facts on our FAQ page, de Novo created a video stressing the importance of making informed decisions.
Instead of chastising people for wanting more information before getting vaccinated—an ineffective tactic—the video recognized their right to be cautious, establishing a relationship based on mutual respect. This went a long way in building trust, so when visitors got to the website, they were more open to our messaging.
We took a different approach with our next video, which focused less on the individual reasons to get vaccinated, and more on the community impact. By spreading the message that "we're all in this together," we helped people see getting vaccinated as an act of kindness that benefits everyone.
After a successful launch in Linn County, United Way signed on to extend the campaign in four other counties—Jones, Benton, Cedar and Iowa. We're thrilled to have made something that grabbed people's attention. And we're beyond proud that our work made a real impact right where we live.