In 2021, we partnered with the team at ECR to develop and execute a campaign that would make Iowans in their service region more aware about the symptoms of mental illness, treatment options and how to connect with professional help close to home.
Before we could connect people to treatment, we needed to make our audience more open to the idea of getting help in the first place. An unfair stigma has long been attached to mental illness, so our first line of business was to tackle falsehoods and biases head-on.
One way to shift the public perception around a given topic is to introduce language that gives people new ways to think and talk about the issue. When we began working with ECR, they had already begun reframing mental health as "brain health." This helped to combat the outdated idea that mental illness is a personal flaw while reinforcing the fact that there is a medical foundation for diseases like depression and anxiety.
Because "brain health" wasn't yet a term our audience knew or understood, we worked to develop messaging that clarified this concept in easy-to-understand terms. In addition to encouraging the use of "brain health" in everyday conversation, we used simple analogies to make the case for medical treatment:
"If you break a bone, you get a cast. If your throat is sore, you take a cough drop. And when thoughts and feelings make your daily life hard—there's treatment for that too."
Meet Pat: The Emotional Support Llama
When it comes to encouraging people to seek treatment for a mental illness, research taught us that friendly faces and positive, outcome-based messages are often more effective than those that dwell on sad expressions and feelings of hopelessness. So we created Pat the Llama, a mascot for brain health who experiences his own mental health crisis before getting professional help.
Why a llama? Llamas are known for their imperfections—the very things that make them cute and relatable. They are also increasingly used for support and therapy animals, given their friendly nature and likability, and are well-liked among all age groups. From a design perspective, their big eyes, soft fur and unique physical features gave us flexibility to convey metaphors about brain health in a relatable and approachable way.
As a result, people were able to see themselves in Pat. And we were able to make the process of getting treatment feel more accessible and less intimidating for those who had never visited a mental health professional before.
de Novo developed a messaging strategy using people-first language that normalized mental health challenges and talking openly about these experiences. This served as the basis for future campaign creative—from social media ads to videos, landing pages and even a coloring book that introduced children to the concept of brain health.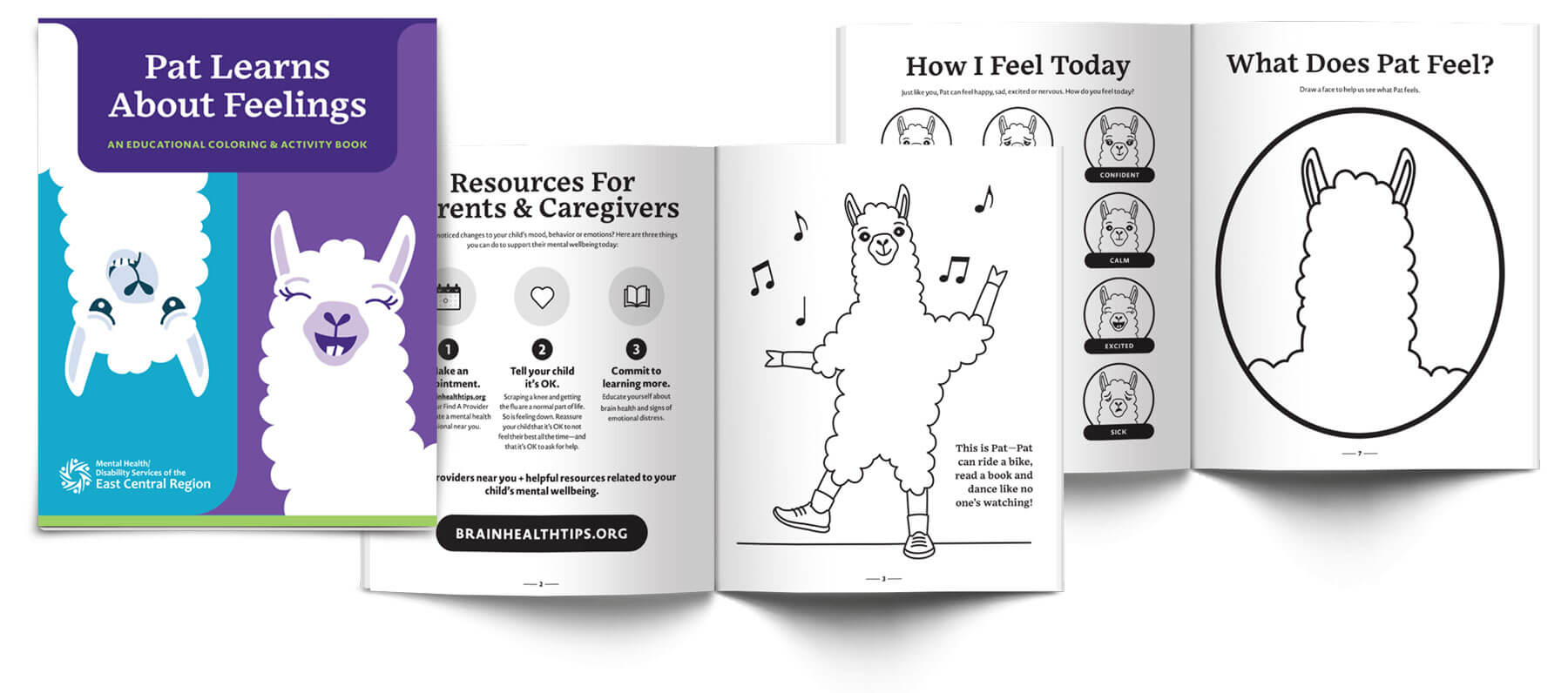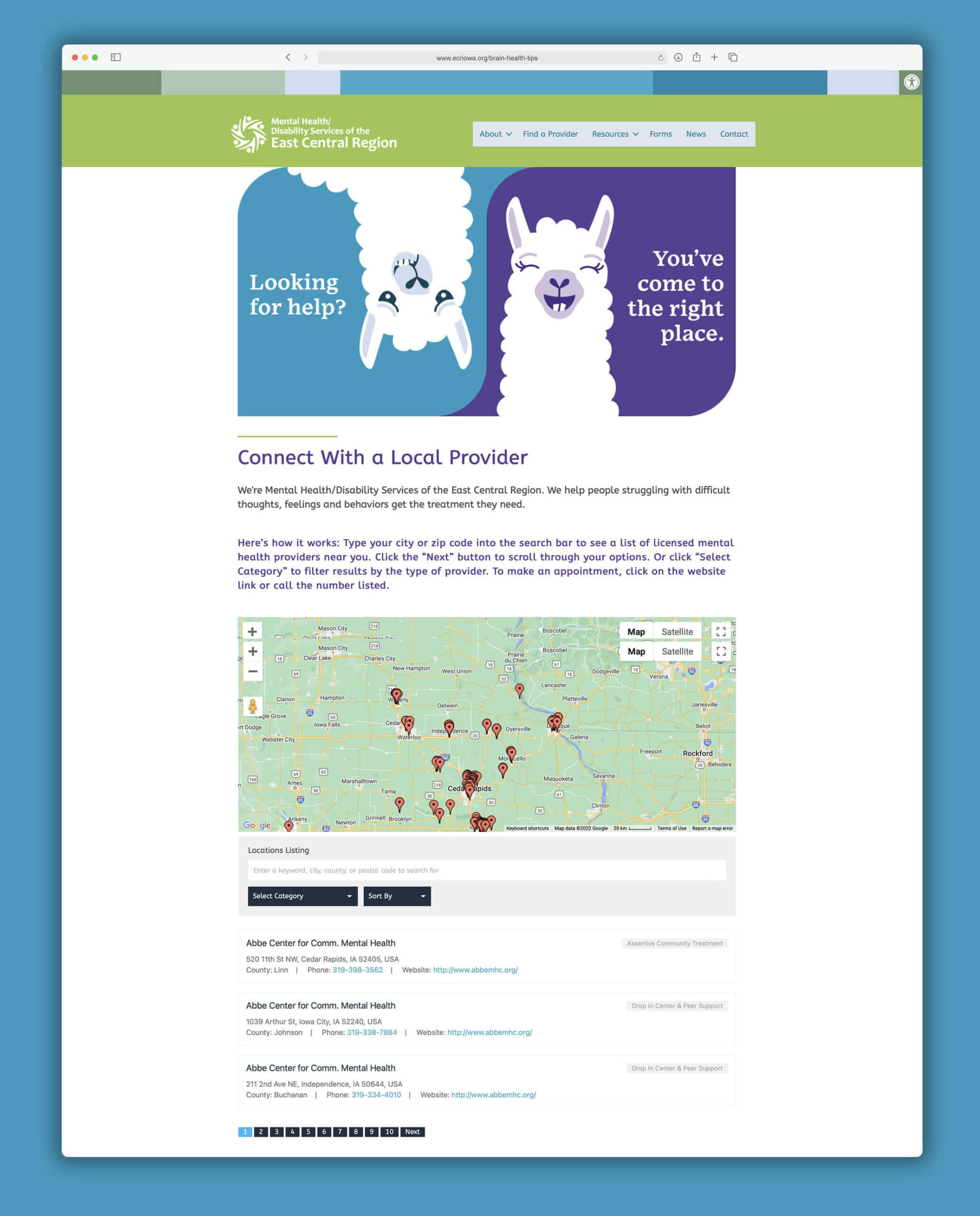 Next came design and building out the world of Pat the Llama through engaging collateral. To support our creative, our team developed and executed a full traditional and digital media plan using print, out-of-home, Google search, Google display, YouTube, OTT/CTV streaming, Facebook, Instagram, Twitter, Spotfiy, Snapchat and TikTok.
The team is currently tracking and managing this ongoing campaign to measure and ensure success, with increases in web traffic, provider link clicks and provider inquires as our key performance indicators (KPIs). By using a real-time digital tracking dashboard, we're able to track responses to new creative and make timely adjustments when needed.
Due to its success, the client has extended the campaign into 2022 and partnered with de Novo on other initiatives like their Mental Wellbeing Project, as well as a campaign to reach farmers and rural Iowans who have historically lacked access to mental health services.
"In the spring of 2021, we selected de Novo to be our marketing partner for a critical project - launching a multi-county campaign designed to increase awareness and access to "brain health" services. They not only met our timelines, but continue to be our partner, growing their knowledge and evolving our tactics to help us to achieve our goals in decreasing barriers and stigmas and increasing access for Iowans."
- Mae Hingtgen, Executive Director, Mental Health/Disability Service of the East Central Region