de Novo's first order of business was to sit down with the client and gain a better understanding of their goals, products and ideal customer. Next, it was time to get strategic.
As our web team laid the foundation for an easy-to-use e-commerce site, our copywriters developed flexible key messaging that could be used across a variety of platforms to introduce Amana Farms Beef to the world. Meanwhile, our digital strategists put together a plan to spread the word and create excitement.
First, we needed to make customers familiar with Amana Farms Beef—a new, unknown entity. Since the 160-year-old Amana Society brand was already well-established, messaging amplified the credibility of the Amana name, calling to mind its time-tested products and commitment to quality, known as the Amana Standard.
Messaging also zeroed in on the product's key differentiators, weaving them into an over-arching brand narrative that told the story of Amana Farms Beef and its exceptional way of doing business.
Central to this story is the company's focus on sustainability and humane farming practices. Given the longstanding perception of livestock farming's negative impacts on the environment, it was important to share with consumers what Amana Farms Beef was doing to actively reduce those impacts.
de Novo created graphics like the one below to help visually reinforce this messaging.
Because the website would receive traffic driven by our digital campaign, it needed to create a seamless user experience that reinforced the messaging in our ads.
To drive conversions (or in non-marketing terms, turn website visitors into customers), we built upon the Amana Farms Beef story with compelling visuals and calls-to-action that enticed people to click "Add to Cart." Our designers created custom icons to represent their different products and bundles, which are now easily recognized by return customers.
de Novo also worked with Amana Farms Beef to ensure their website needs were met as the business expanded. This meant adding complex delivery and shipping functionality to the check-out process and providing their staff with website training.
By giving the client the keys to their website—and a better understanding of how it works—we enabled their team to make content updates themselves and create and manage coupon codes as needs arise. (Give a man a piece of steak, and you'll feed him for a night. Teach him how to farm, and you'll feed him for life…)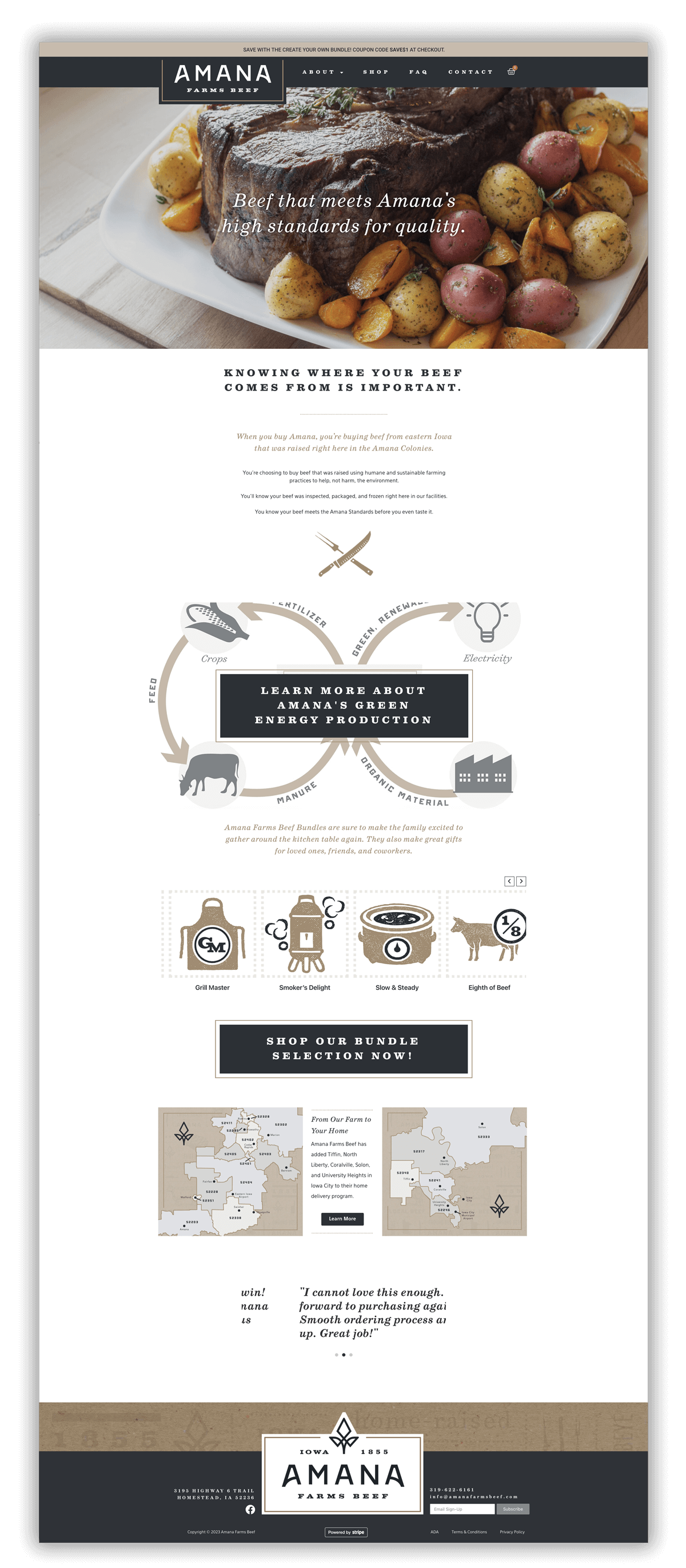 With the website and messaging ready to go, Amana Farms Beef had everything it needed to make a splashy introduction. Because the brand was completely new to the market, the first phase of our digital campaign focused on building awareness, using our identified key messages to tell the story of Amana Farms Beef and its farm-to-table offerings.
We ran the majority of ads on Facebook, YouTube and Spotify, with a small budget behind Google Search ads. As an added incentive, a "FIRSTORDER" coupon code gave customers $10 off their first purchase from Amana Farms Beef.
Going into 2022, the digital campaign refocused from building awareness to driving conversions. Shifting gears, we adjusted the budget to favor Google Search and Facebook ads, putting a smaller focus on YouTube. For this phase, we also added OTT/CTV ads to the mix. Over the course of the year, we continued to monitor campaign performance and adjust accordingly.
In the first six months of the digital campaign, the ads focusing on awareness and storytelling helped drive over 15,000 users to the site and generated 57.2% of total sales. Orders from the digital ads alone generated enough sales that Amana Farms Beef saw an 87.6% ROI on ad spend.
In the fall of 2022, we started to see a dip in online orders and recommended running fall promotions that encouraged customers to stock up for the winter. These ads boosted sales by 108% compared to the previous month. Overall, Amana Farms Beef increased sales by 71.9% as a result of the 2022 digital campaign. The company also saw a direct ad spend ROI of 101.4%.
Due to the success of the last two years, Amana Farms Beef continues to partner with de Novo, and in 2023, they enlisted our help with digital marketing for additional Amana brands.